Robert Nesta "Bob" Marley
(
February 6
,
1945
-
May 11
,
1981
) was an influential
Jamaican
musician in the
1970s
and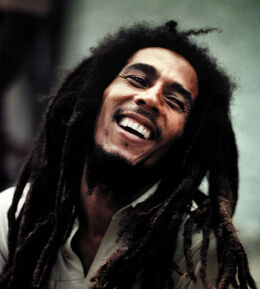 1980s
. He popuarlized the style of
reggae
music, which before was only regional. His music told stories of his home, and the
Rastafarian
religion he followed, his songs, many of which were topical and political, popularized reggae worldwide in the 1970s. The core of Marley's band the Wailers was formed in 1963, and they began making local hits, with "Simmer Down" as their first #1 single. He was born to a black teenager, Cedella Booker, and a white British officer named Norval Siclaire Marley. He got into music in the 1960s with his group the Wailers, that he formed with two friends,
Peter Tosh
and
Bunny Livingston
. He was married to Rita Marley in 1966, who sang as one of his back-up singers, they had 4 children together.